Breakfast on the terrace "La Isabela" at Hotel 1898
One of the city's hidden gems is best visited in the morning. The glorious rooftop breakfast at Hotel 1898 will feed your stomach while your eyes feast on panoramic views of the streets down below. Make sure you book this in advance.
Take in the Gothic splendour of Santa Maria del Mar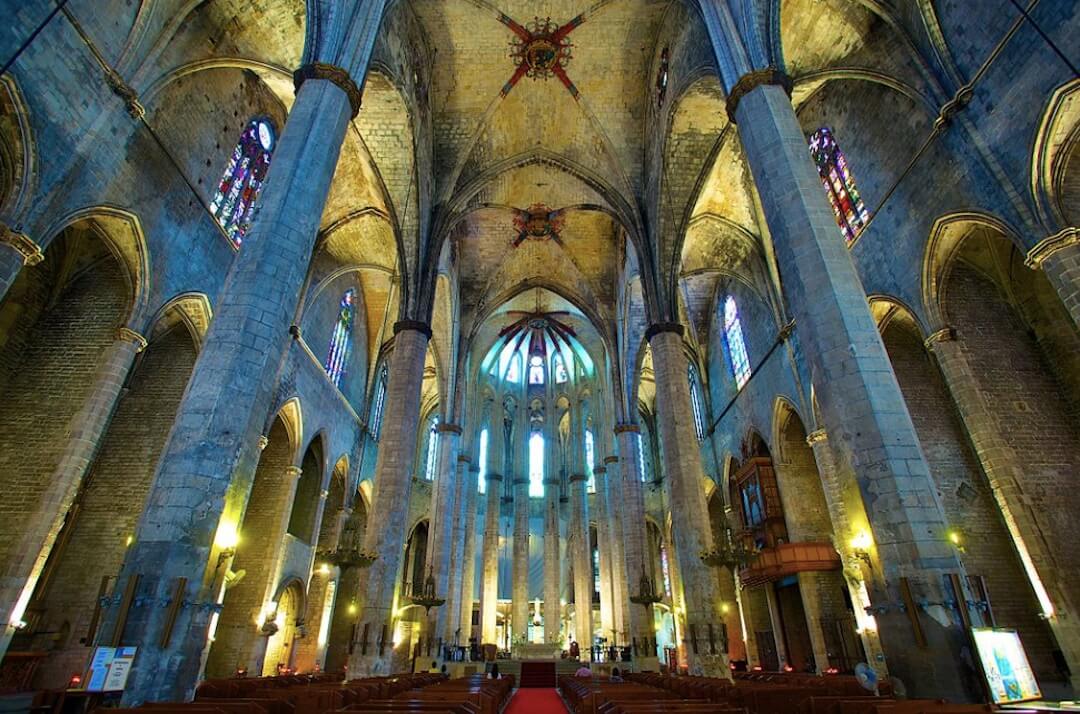 Barcelona's most famous cathedral, Sagrada Familia, is an obvious addition to any first timer's list –and of course, make sure you see it, even if it's just from the outside (take the metro to stop Sagrada Familia, it's as easy as that).
But for a more intimate and – dare we say it – breathtaking experience, the Catalan Gothic styled Santa Maria del Mar will make you feel like you're truly back in the 1300's.
The ceilings here reach for the heavens, and there are way less tourists and almost never any queues. Take in this architectural wonder and get a rare five minutes of quiet time too.
A short walk away from the cathedral is one of the most impressive coffee roasting houses you're likely to find, anywhere… El Magnifico. Get a to-go cup or buy some beans to take home with you.
Check out the hotties at the gay beach, Playa Mar Bella
You've seen a fair bit of culture – now it's time to relax with sand between your toes and a cocktail in your hand from the beach bar chiringuito at Barcelona's gay beach, Playa Mar Bella. We'd suggest getting an inexpensive cab – there's still a lot left to pack into this 24 hour trip!
This chilled out city beach doesn't have the most beautiful sands and views – head to Sitges down the coast for that – but you will find some of the hottest boys under the sun.
Watch the sunset from Montjuic
In the west of the city, Montjuic is one of the biggest hills in Barcelona. It's got a castle, Cactus Garden, cable car and even the swimming pool from Kylie's "Slow" music video. Walk up if you're feeling energetic, stopping at regular intervals to see the fabulous views of the city. There are often parties or festivals to be found here, and they're some of the best!
Grab a cocktail on the rooftop of the Axel Hotel
Barcelona's vibe shifts at night and one of the best places to start your night-time adventure is on the roof of the Axel Hotel. Friday nights are legendary here, with hot gogo boys, drag queens and live sets from local and international DJs. With so many parties to enjoy, it's better to ask around to find out what the best event is for any given night.