The role underwear plays in keeping you comfortable all day is huge!
We also can't forget how important it is to look amazing when you and your boyfriend strip down to your skivvies. You want sexy men's underwear that looks good and gets the job done. You want the best mens underwear on the planet.
What about the classic debate over boxers versus briefs? Here are the pros and cons and a general guideline. So, we included on our list the best boxers, briefs and the best jockstraps.
What's the bottom line?
We have spent a lot of hours researching and testing underwear brands to create with our list of the best men's underwear for this summer. So check out our list of highly-rated, amazing and comfortable underwear.
Let's start from briefs
Carefully crafted with premium soft fabrics and comfortable elastic bands
Designed in the USA following forward fashion trends
This product brings the best of 2020 fashion trends.
Manufactured with materials under ISO 14001 environmental certification for waste recycling, responsible water/energy consumption, and residue management
This briefs design cut from textured dri fit mesh on its front contoured pouch. This pouch is detailed with silver reflector bands that plays and dances with light when shone on it.
3. MODUS VIVENDI BLACK SEAMLESS CLASSIC BRIEF
This Modus Vivendi Seamless Classic Brief, available in black colour an elegant brief with a knitted waistband and the Modus Vivendi logo on it. Made from supreme green cotton fabric that is sustainable having an OEKO-TEX certification, this brief is naturally cozy, has a lux feeling as it is long-lasting. If you love the planet you're sure to love this too.
4. ADDICTED COCKRING C-THROUGH BRIEF
New and revolutionary brief made with our new technology RING UP
COCKRING (removable) + PUSH UP = RING UP
Contributes to a fuller erection
Provides extra volume and lift
Extra support and comfort
Proudly designed and made in Barcelona
Now let's talk about jocks.
2. And also C-IN2 JOCK SUPER BRIGHT 2
Those Super Bright jocks is for those who are fun and dangerously confident. It features neon and contrasting colors with a sexy fit. The brighter the better!
Featuring sexy, neon bright elastic straps
Engineered center front logo on elastic waistband
95% Polyester, 5% Elastane
3. ADDICTED COCKRING C-THROUGH JOCKS
COCKRING (removable) + PUSH UP = RING UP
Contributes to a fuller erection
Provides extra volume and lift
Extra support and comfort
And finally hello boxers.
This is comfortable boxers
They are 100% Cotton
Especially suitable for those who like a more classic underwear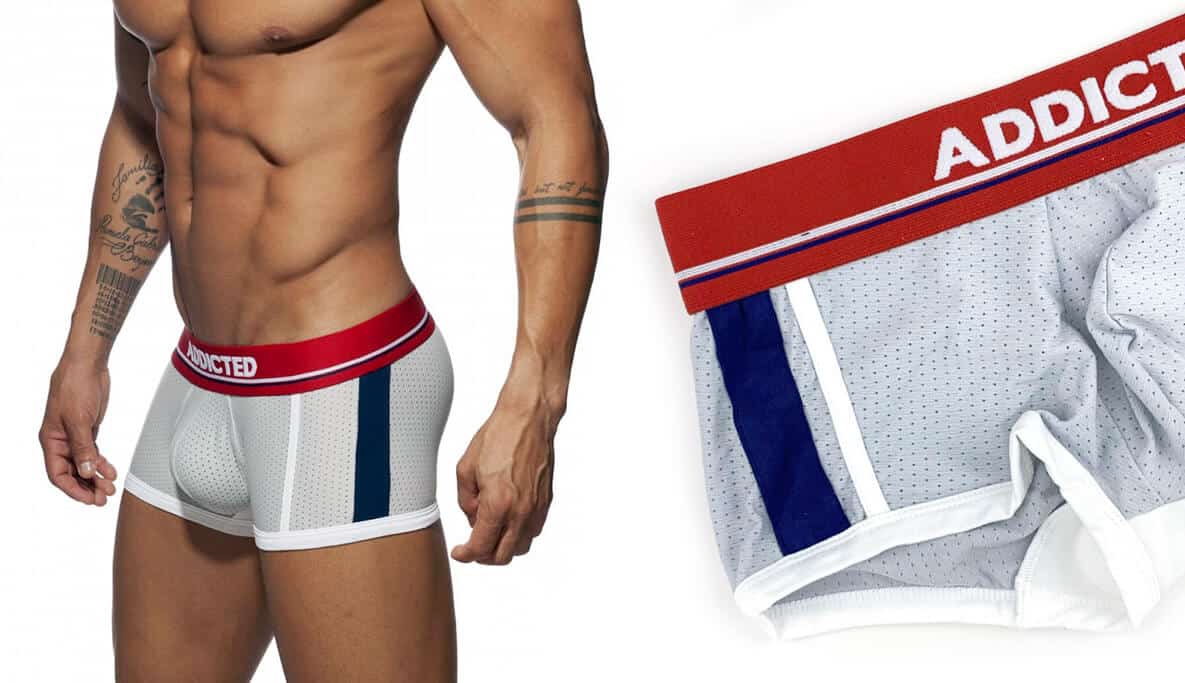 This is our winner! This boxer give you the best of both worlds. They're like lean shorts that give your legs that extra appeal (especially if you happen to be fit). They are very comfortable. Especially this mesh fabric, in the summer it very important that your skin can breathe. They still look like underwear but you could probably get away with them when chilling at a friend's place for drinks and pizza.
All this fab undies you can find in our store, or you can subscribe and we'll surprise you every month.
If you subscribe of any Gay Pack with with 2+ pairs you will get one of this swimwear (value of $55/€45/£42) for free with your first order. Don't forget to add promo code on the checkout page. You can find promo codes here.