The colder months have gone, and if your feet still look like some kind of cave monster's dusty claws, you probably need to read this twice…
Cut your toenails
We're men, we forgot to do this a lot. It doesn't take very long, and it can really improve the look and comfort of your feet. Cut them when they are dry, using toenail clippers. Don't grab any old scissors, you could end up causing damage.
They don't tend to grow very fast, so a trim every 2 weeks should be plenty. Write in on your calendar if you've got a memory like mine!
Wash your feet often
Look, you wash your face and your hands pretty often right? You also probably have a shower and or a quick wash with a flannel for your 'man bits' before a date or impromptu sex date.
So wash your feet too! They can cause a lot more odors than you think, especially when you're naked with a guy and your feet are up by his face (I'll let you imagine how that might happen). And smelly feet (unless it's your fetish), can be a total boner-killer…
How to wash them?
It can be tricky to wash your feet in the shower as things can get slippery and balance becomes an issue, especially as you get older. But washing them in the bath is a great idea! Or, as a separate on-off treatment at home.
Treat your feet to a 'summer bath'
In the summer, this is an especially nice thing to do. So, soak your feet in a bowl of warm water, with your favourite oil, such as olive, coconut or vitamin E oil. This will stop too many of your skin's natural oils being removed, but will also make them super-refreshed and moisturised.
If your feet are hot and feel swollen – which they may often do after a long day in the office or a long night on the dancefloor – leave them to cool off and soak in a bowl of cold water. Add a bit of peppermint oil in to freshen things up.
Moisturise your feet for extra softness
If your skin is dry, apply moisturising cream all over the foot, except for between the toes. Gently remove hard skin and calluses with a pumice stone or foot file – don't overdo it though or skin will grow back harder than ever.
If the skin on your feet is dry, moisturise them with your usual body cream or special foot cream if you have any (lucky boys!). If you have hard skin, use a pumice stone or foot file, then rinse, before moisturising.
There is also another simpler option, you can use a foot mask. For example the Dr. Pedicure foot mask from Grace & Stella.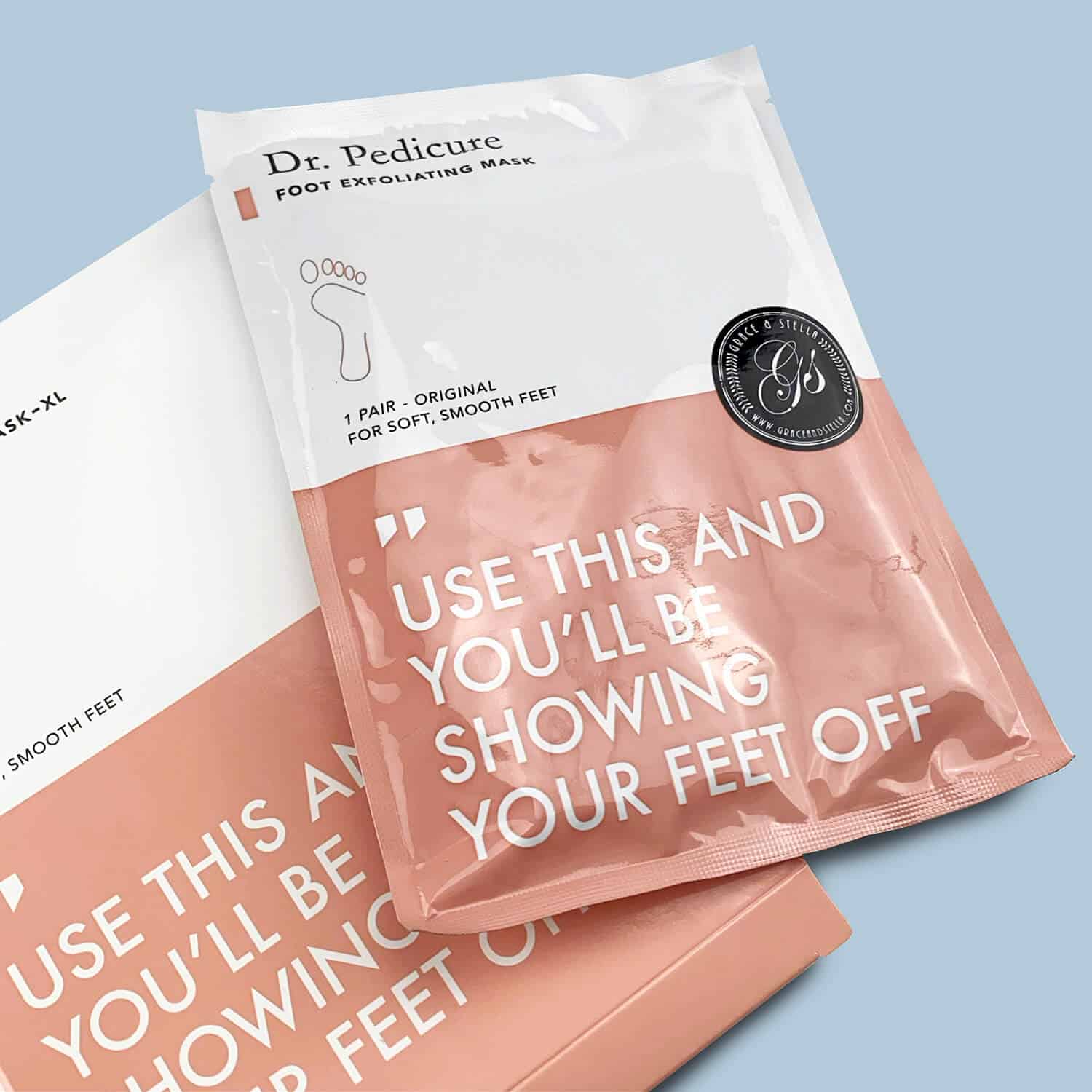 You can easily do it at home in the evening on the couch watching your favourite series on Netflix. And you have a chance to try this fab foot mask if you subscribe for the Out'N'Proud Gay Pack this month.
Change your socks regularly
Your feet will be sweating more in summer months, so change your socks more often. If I've been working all day and walking about between meetings, I take my socks off as soon as I get home to give my feet a chance to "breathe".
Then I'll put on a fresh pair. This month we have great socks from Unsimply Stitched in our Out'n'Proud Gay Pack. You can also add a subscription for socks if you are already our customer. You can do it here.
Don't wear flip flops or sandals that hurt your feet
Super-cheap flip flops and sandals are all over the high street and beach front. Getting a pair for a couple of coins is not unusual. But these kind of cheap shoes can really hurt your feet. If they start to cause you pain when you walk, or blisters or rubbing, please throw them away babes? Your feet deserve better. You deserve better. One step at a time.